Keys to the Success of ABM: Investment, Measurement, and Alignment
As a customer-centric focus increasingly proves critical to the success of professional service firms, account-based marketing (ABM)—the dedication of marketing resources, time and attention to specific accounts and prospects—has become one of the most important elements of firms' overall marketing plans. That's why it's critical for firms to understand what makes for the most effective ABM program.
To identify the key components of a successful ABM program, Alterra Group surveyed 50 U.S.-based practice leaders, marketers and business development executives across professional services sectors. Our research was designed to explore several key aspects of ABM, including how the importance of ABM has changed over time and why, the benefits professional services companies derive from this type of marketing, and the key practices that lead to greater success. In this article, we explore more deeply the potential drivers of ABM success. To do so, we compare the responses of two distinct sets of companies that participated in our research: those for which ABM had resulted in major benefits for either client retention or acquisition (a group we called ABM leaders), and those that reported less-significant benefits (a group we deemed ABM laggards). Our comparison found leaders invested more in their ABM programs and measured the ROI of those investments to a greater extent. We also discovered that leaders' marketing professionals played a more active and strategic role in their ABM programs (as opposed to only providing tactical support). The payoff from these actions is considerable: Respondents who said ABM had a major positive impact on client retention or acquisition also were much more likely to say their clients had increased their business with the firm over the past year.
More investment, more measurement
Leaders, on average, dedicated 20 percent of their marketing budgets to ABM three years ago, versus the average of 14 percent for laggards. While both leaders and laggards will dedicate a greater percentage of their marketing budget to ABM in the future, leaders will continue to outspend others. In fact, leaders plan to dedicate an average of 53 percent of their budgets to ABM three years from now, versus 37 percent for laggards (Figure 1).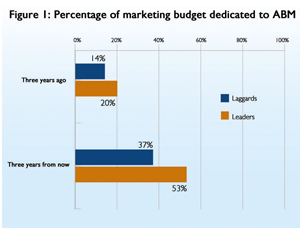 Not only do leaders invest more in ABM, they also are more likely to closely measure the impact of their spending, especially as it relates to revenue growth. Indeed, 58 percent of leaders measure the ROI of ABM to a large or very large extent, compared with 27 percent of laggards (Figure 2). And when they consider ROI, leaders focus primarily on quantifiable business results, choosing revenue growth as the single-most important measure of ABM's ROI.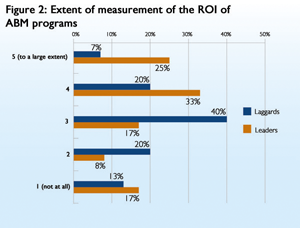 A more strategic role for marketers
Our research also confirmed a strong correlation between the role a marketing professional plays in ABM and the overall effectiveness of a firm's ABM program. Ninety percent of leaders described the role of marketers in ABM as either providing strategic direction or as driving the execution of specific elements of ABM programs. In contrast, 69 percent of laggards described the role of marketing staff thus, with 31 percent saying that marketers played only a supporting or reactive role.
In addition, deep account and industry knowledge are needed to craft an appropriate ABM strategy and create account-relevant marketing messages. As a marketing director at an ABM leader told us, "I think a different skill set is required from marketing for ABM. You must have company knowledge, but also experience in the industries you are serving. If you don't the learning curve is tremendous. The net is you have to be a content person. It's very difficult to create a strategy based on marketing tactics without account and business issue knowledge."
Conclusion
In general, our survey shows that companies that gain the most from ABM are more focused and intentional about their efforts than others. For instance, they staff their ABM programs with marketers who have the right knowledge and skill set, and they more closely track the top-line impact of their ABM investments.
By doing so, ABM leaders have achieved tight alignment between marketing, sales and account management, which enables them to make the best investments–from account selection to marketing tactics. Together, these actions help leaders invest more heavily in ABM with confidence in the returns they will enjoy.