Being Relevant: The First Standard of High-Quality Thought Leadership Content
According to a survey by the Content Marketing Institute (CMI), content marketing's effectiveness is on the rise.  And one of the key factors behind this rise, respondents say, is that they're producing better-quality content.
The primacy of quality content is something Alterra Group has preached for years.  In our work with myriad consulting firms and other B2B companies, we've seen time and again that the quality of thought leadership content determines whether that content flops or flourishes in the marketplace.
What defines quality content?  While quality can be somewhat subjective, we've identified certain standards—seven of them—by which companies can evaluate their thought leadership content (see figure). As we discussed in a previous white paper, by adhering to these standards companies can ensure their white papers, research studies, articles, books, and the like effectively position them as voices of authority in their respective markets; demonstrate their ability to solve clients' or customers' most pressing business problems; and—most importantly—generate demand for their offerings.
Seven Standards of High-Quality Thought Leadership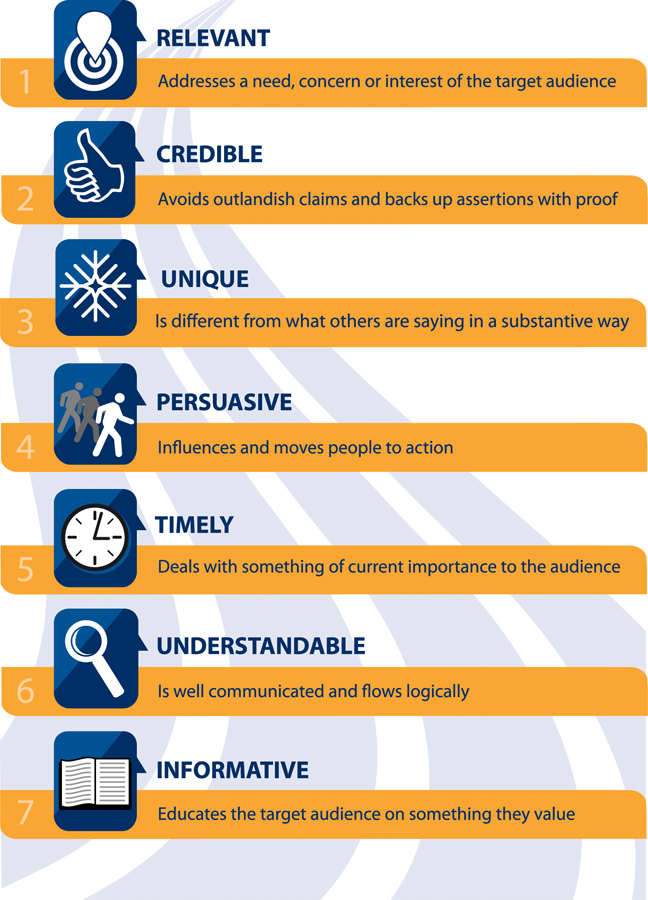 Over the next several months, we'll explore each of these standards in more detail.  In this blog post, we take a deeper look at the first one:  relevance.
Being Relevant: Addressing a critical need, concern or interest of the target audience
Let's start with the obvious:  Content that's not meaningful to executives will have no impact. We reinforce this because it's easy to overlook. In our work on hundreds of thought leadership content development projects over the years, we've seen our fair share of companies and subject matter experts (SMEs) developing content on a topic that interests them, but isn't a major issue for most of the intended readers. Why would they do this?  The most common reason is that they often lack sufficient insights into what clients and customers are really grappling with.
Know Your Audience
Companies need to make sure they know what's important to their customers and prospects and build their content around it. Formal efforts, such as client or customer surveys, can help unearth the issues that should drive content development efforts, as can in-house think-tanks that conduct ongoing research to explore key industry challenges and trends.  But arguably even more valuable is tapping into an often overlooked well of insights:  the people who work with clients or customers on a daily basis and have firsthand knowledge of the issues they face.  Creating a structured way to aggregate that knowledge on an ongoing basis is vital to matching content with what executives are thinking.
Using these deeper insights, a company can then develop specific themes—a short list of the biggest uber-issues the company has found target executives are most concerned with—around which it can align its editorial.  The topic of every article, white paper, or other publication the firm produces must relate to one of these themes to get green-lighted for development.
Get Tailored
A company's content also can lack relevance when it's based on a "mass appeal" strategy.  In other words, a company creates a piece that addresses a topic very broadly in the hope that more people will want to read it.  But a piece that's meant to appeal to everyone often makes a strong impact on no one if it's too general or superficial.  Creating a high-level "umbrella" piece that introduces a company's point of view on a topic is important.  However, the company then needs to take the next step and either create different versions of the same content, each tailored to a particular need, concern, or area of interest; or produce spin-off pieces that probe a specific angle more deeply.
For instance, leading companies typically produce industry-specific versions of their core content.  This enables them to acknowledge the unique challenges each industry faces and relate their insights more directly to what executives in those industries are experiencing.  A side benefit:  It also helps companies get extra mileage out of the core content without major additional investments.
Have a Strategy
Lack of a content strategy is a third factor that can undermine relevance.  The CMI survey mentioned earlier found that only 37 percent of participating B2B companies have a documented content strategy.  A documented content strategy is critical.  It provides the direction for what kind of content a company produces, the main messages the content should communicate, the purpose of the content and, the specific audiences content is meant to engage.  In other words, with a documented content strategy guiding its efforts, a company is far less likely to create ad hoc pieces that aren't in tune with those the company's trying to attract—and more likely to produce content that has a positive impact in the marketplace.  Indeed, in the CMI survey, respondents who said they have a documented content strategy (versus only a verbal strategy or none at all) described their content marketing as very or extremely successful.
Vet the Topics
Finally, a company may produce content that's less than relevant to executives because an SME wants to focus on a particular topic for personal reasons (i.e., the so-called "vanity project").  These are occasions in which powerful SMEs can push through the development of white papers on topics of little appeal outside of themselves and maybe a few others.  Not surprisingly, these papers don't resonate in the marketplace.  Having a formal process in place for vetting and approving content topics, as well as a strong content development leader who can enforce its use, are vital to keeping SMEs' attention on topics that matter.
***
Being relevant is arguably the most basic standard thought leadership content should meet.  If executives aren't interested in the topic, it doesn't matter how well content meets the other standards. In our next post, we'll look at the second standard of high-quality thought leadership content:  being credible.